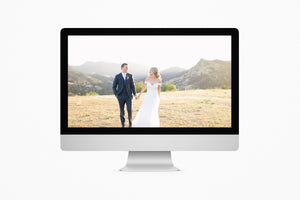 Illume LUTs
Sale price Price $147.00 Regular price Unit price / per
SHOP THE ENTIRE COLLECTION
Illume Mobile
SHOP NOW
Illume NOIR (desktop)
Coming soon!
Before & After | Graded with Illume
"This is seriously amazing! The LUT works perfectly, gorgeous coloring. Can't wait to see the internet blow up over these!"
"I've been able to color two weddings in half the time and with better results. Compared to what I was doing before this LUT delivered a cleaner look."
"I love the way the LUT brightens everything and adds vibrance to my footage. It really infuses lovely, cool greens into the image."
"I love the contrast it adds and the light & airy feel it gives."
Made for you
Kelley and Paul Gilster are the owners & cinematographers of 618 Studios and creators of Illume LUTs. While serving as filmmakers in the wedding industry for nearly a decade, they have been endlessly inspired by the tones & colors achieved by medium format film. It's with great anticipation that they proudly offer a brand new collection of desktop & mobile video presets created with the fine art filmmaker in mind.
READ MORE
Complimentary Edit
Not sure if our LUTs are exactly what you're looking for? Simply send us your raw footage! Our team of color experts are happy to provide a test edit to ensure they will produce your desired look.
more info